This course includes vital information on feminine well-being, health and beauty. Included are experiential exercises of dance, massage, healing and meditations for personal transformation.
We also offer you a special process for rewriting your inner beauty script, awakening your inner and outer Goddess in all of her splendor.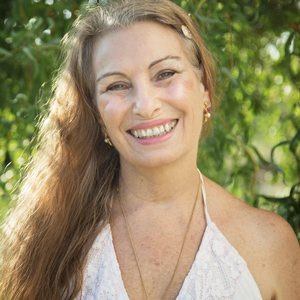 One small step for woman, one giant leap for humanity.
Welcome to The Goddess Unveiled.
This Course has been created by Ma Ananda Sarita, a world renowned Tantra Master and Mystic offering Courses, Retreats and Trainings throughout the world..
Having received a direct transmission from Osho, she is true to the spiritual essence of Tantra and guides her students on the path of self realisation.
A space for women who would like to unleash their potential to live life more ecstatically.
An experiential way of expansion to your feminine fullness with Tantra principles in 13 rich lessons.
Goddess Essence Course Curiculum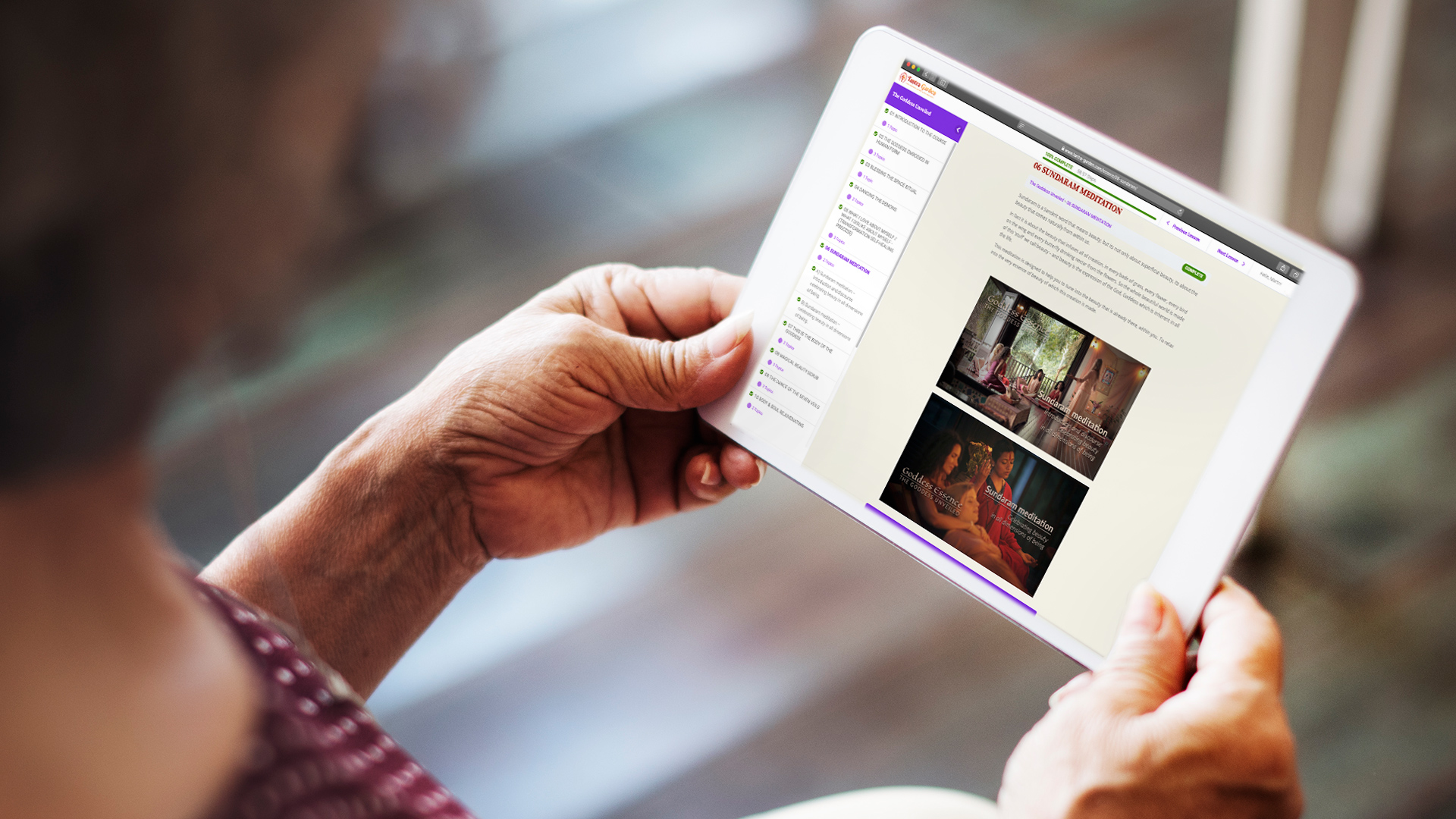 From the comfort of your own home you may watch, practice and enjoy this course.
We have prepared lessons with full discourse, full time meditations, rituals and learning structures such as massages and body care preparation.
13 Lessons in the course
In the course you will find 13 lessons. Each and every one has theory – a discourse, Meditations and rituals filmed in full length, so you can participate as though at the real event.
Course includes lessons, meditation, rituals, interviews, recipes, massage guidance, bonus material and more.
In 38 videos, a total length of 28 hours, you will find high quality content recorded by experienced professionals of film as well as Tantra.

The head of the film crew is Martin Vrabko – Dev Ninad – An internationally renowned and celebrated photographer and film maker who is also a member of the Tantra Essence Kaula Team.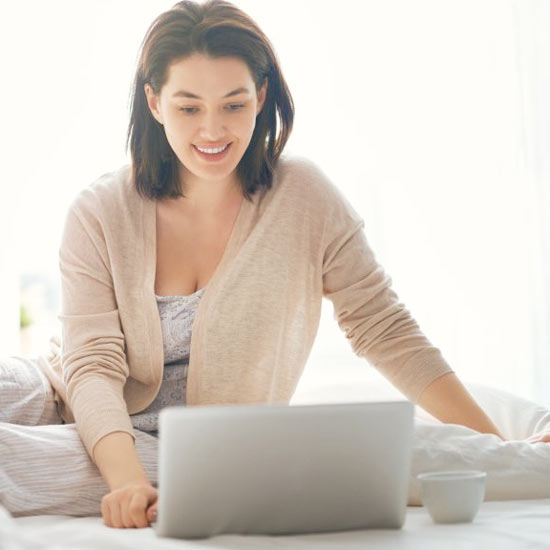 Free Trial!
Take a look inside our online courses.
✅ Get to know the online course system.
✅ Find out the quality of our courses.
Module 1 – The Goddess Unveiled
How we feel about ourselves as women is of paramount importance for fulfillment in relationships and in life as a whole. As we relax into our innate nature of love and compassion, we discover a tremendous, ever flowing resource of feminine power, beauty and resilience.
In this module, we offer a transmission for loving yourself and from that fertile soil planting a garden of love, which nurtures balanced relationships with others. She who is anchored in the power of love can easily learn the necessary tools for evolving within an intimate relationship.
All of us have some sensitivity about the issue of appearance, as it connects deeply with our identity and feelings of self-worth as a woman. When we love ourselves, this inspires us to take care of the body and is reflected in our outer beauty.
Through awakening our sensual aliveness and learning how to care for our inner and outer physical form, we are able to discover and recognize our own and each other's beauty. Come and celebrate your divine feminine nature in a safe and accepting circle of women.
This course is a deeply moving and profound personal journey for all women, whatever your age and shape and however you feel about yourself now.
You deserve to dance in celebration, to be multi orgasmic, to know love in everyday life and to live in awe of your own beauty. You deserve to be a fully empowered woman!
Sarita's Personal Invitation
I have embraced the Goddess within through many years of Meditation, Tantra and Holistic Healing practices.
I invite you to discover the fullness of your own inner potential, as a lover, a mother / creator and a wise woman.
You deserve to dance in celebration, to be multi orgasmic, to know love in everyday life and to live in awe of your own beauty.
You deserve to be a fully empowered woman!
Is this course for you?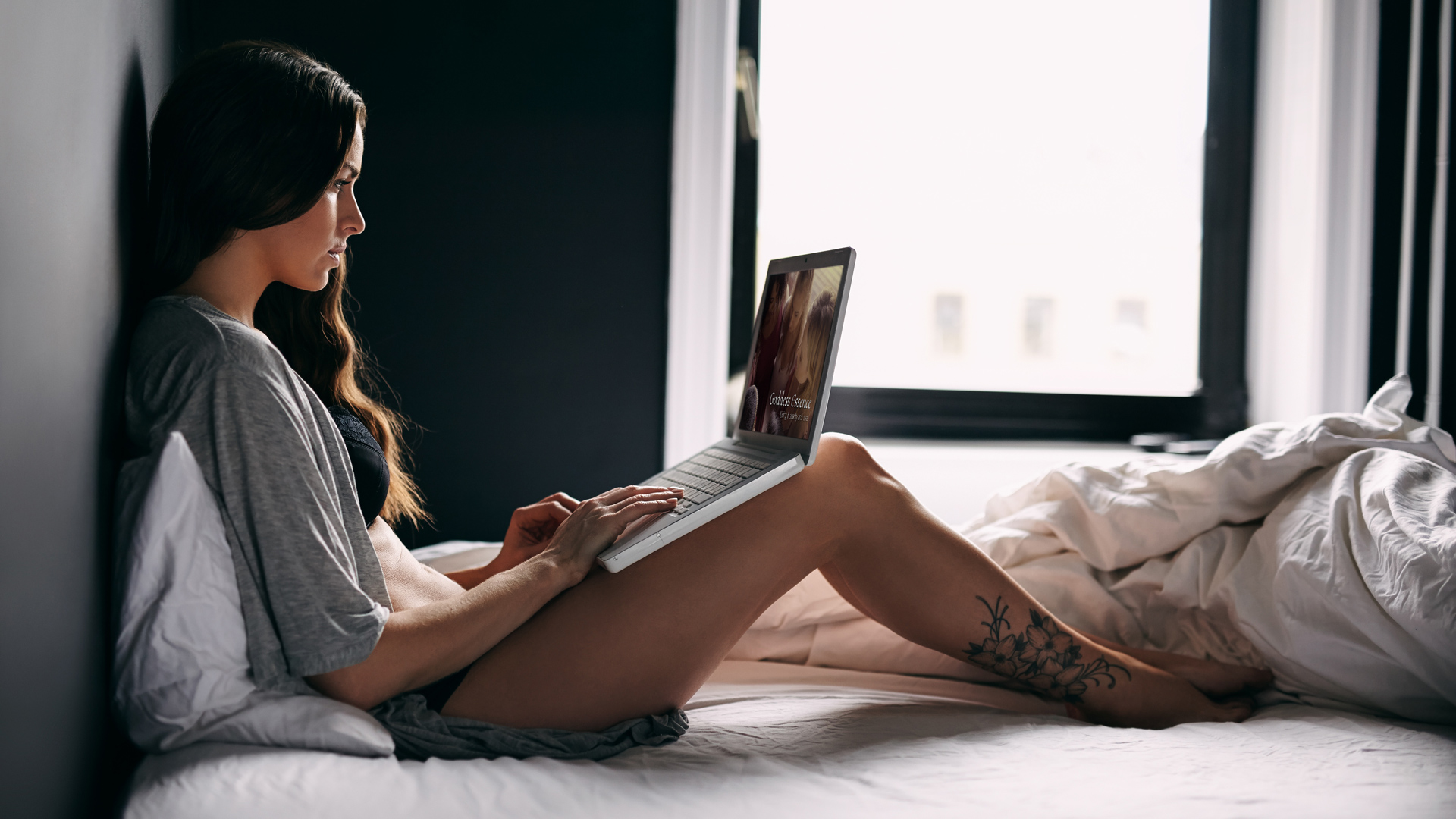 There are many women who have been sincerely working on themselves and who are ready to take a jump to the next level. In fact, the whole planetary consciousness is getting ready to take a jump to the next level.
❁ Perhaps you have questions that need answering about finding fulfillment as a woman.
❁ Perhaps you have issues that need healing.
❁ Perhaps you seek understanding about how to have a more fulfilling relationship with yourself and with your family or lover.
❁ Perhaps you seek methods to help you maximise your orgasmic potential.
❁ Perhaps you are a seeker of truth and really want to find the spiritual path which is best for the feminine nature.
If you have said yes to any of these points, then this course is for you!
If you are one of those women who would like to open yourself to your fullest potential and simultaneously open a new dawn for the divine feminine everywhere, then this course is for you!
Changing the direction from destruction to creation!
The world is full of problems and many women are afraid of the legacy we will leave to our children and our children's children.
❁ Imagine a world without elephants, because they have all been poached for ivory.
❁ Imagine a world without fish, because they have all been killed by manmade pollutants.
❁ Imagine a world without bees, because they have been killed by pesticides.
❁ Imagine a world without flowers because the bees have died.
Yes, atrocities are happening each and every day in this world, and we women have the power to stop it.
We are half of the world's population. We are the birth givers. We can change the direction from destruction to creation!
Recipe for fulfillment in life.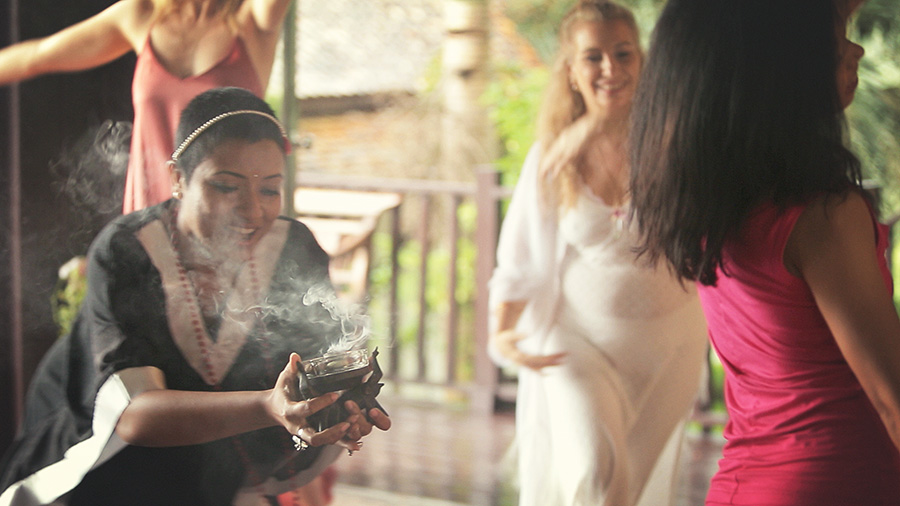 The change begins from within.
❁ Do you love your own body?
If not, learn how to love yourself, as it is through loving yourself that you will learn to love Mother Earth.
❁ Do you realise how magnificent you are?
If not, open up to your magnificence.
It is through opening your potential that you will realize the potential we have to change the world.
The program 'Goddess Unveiled' is a condensed path, based on deep wisdom gathered through the years by Ma Ananda Sarita, Tantra Master.
The journey of Ma Ananda Sarita
Ma Ananda Sarita is a world renowned Tantra master and mystic offering courses, retreats and trainings throughout the world.
Having received a direct transmission from Osho, she is true to the spiritual essence of Tantra and guides her students on the path of self realisation.
At the same time, she helps people to transcend the psychological issues which are carried as a result of cultural conditioning and past experiences.
She is also a master healer, author and producer/ director of Tantra online courses.
Sarita was already very sensitive to subtle energies and guidance from Spirit as a child, and as a young teenager she left her home town in California and went in search of the essence of life.
She hitch-hiked her way throughout North America, Europe, the Middle East and India.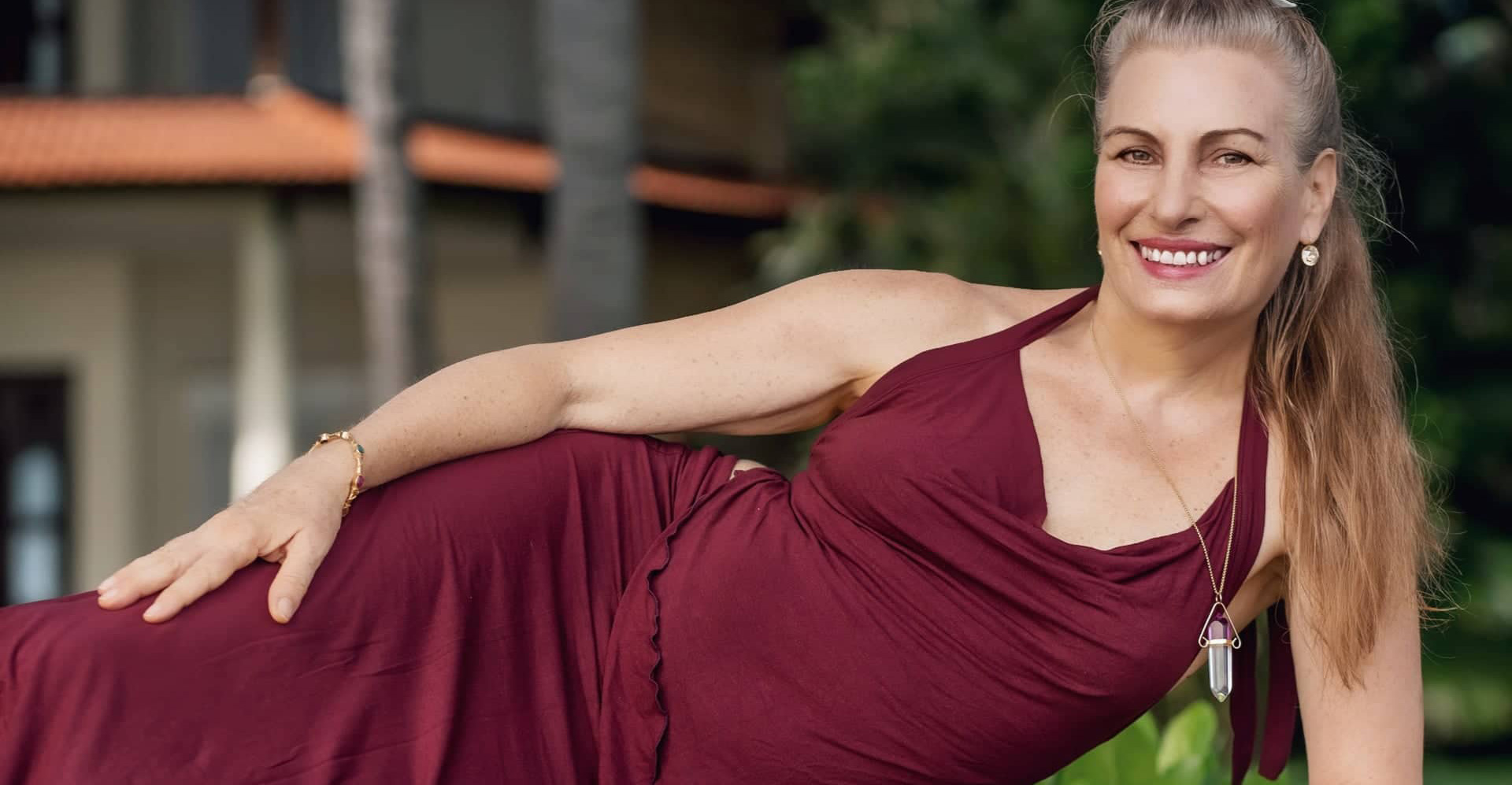 She met Osho in Mumbai, India in 1973, at the age of 17. She subsequently remained in his community for the following 26 years, receiving much personal guidance from him on the subjects of Meditation, Tantra, Love and Relationship.
She began teaching in 1990 and moved to Europe in 1999 where she established a School devoted to Tantra and Healing Arts.
She is author of two books on Tantra and also publishes a monthly newsletter and numerous articles in a wide range of magazines.
Sarita has developed the 7 level Tantra Soul Mate training for couples, which has been running successfully in Europe since 1998 and is also available in Asia.
She also developed and teaches the Vigyan Bhairav Tantra Retreat in Dharamsala India, offering profoundly transformative experience of the 112 methods from this 5000 year old scripture.
She offers an international Tantra Teachers Training, comprised of 4 two week modules, the one month, Ultimate Tantra Mystic Massage Training and The Goddess Essence Teacher Training.
Discover how to love yourself
In this online course I am showing you, how to love yourself. How to embrace yourself. How to recognise your own magnificence.
By doing so, this will begin reflecting in your outer life in so many ways.
What Makes This Program Different?
The teachings I offer are influenced profoundly by the fact that I am part of Osho's lineage, having received direct guidance from him over many years.
The enlightened vibration and wisdom I received from him is woven into the fabric of all my work.
This Goddess Essence Online Course is unique in all the world!
Not only is it offering a complete path of personal development for women but it is also offering the insights gleaned through my years of offering groups, courses and trainings throughout the world.
Tantra Essence holds a top notch reputation for offering valuable content, deep transformational experiences, high quality and aesthetic presentation and a safe and honoring approach towards students.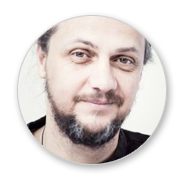 Martin Vrabko, MQEP
The Director of photography.
""Throughout this course, all emotions expressed are true. All the tears, joy, happiness and difficult emotions are real.
As a crew, we have remained invisible and very sensitive at every stage.
You may feel a very real connection with our five women who have been filmed."
Join the Lovelution
Celebrate the goddess. In me, in you and in every women. Find the divinity that wants to be experienced in you and through you. All that is needed, is a dedicated path of Meditation which by nature is tuned into the Divine Feminine.
Whatever your secret desire is, know well that all women are connected and your desire is our desire. When we pool our energies, we become all-powerful to manifest our life in service of the highest good for all beings.
The Core Benefit
The core benefits of participating in the Goddess Essence 4-part Training are: (with this module being part 1)
❁ Your physical, emotional and spiritual awakening as a woman
❁ Opening 3 magical doors within
❤︎ self-love
❤︎ loving others
❤︎ loving the whole
❁ Learn and practice youthing and beauty secrets.
❁ Awakening undreamed ecstasy through a methodology which is tailored just for women.
❁ Expanding your feminine potential and power to include your Goddess nature, she who is custodian of birth, death, holds the evolutionary key for humanity and as Shakti holds the secret behind all emotional states.
❁ Opening your clairvoyance and your ability to be wise woman and healer of yourself and for all women.
❁ Understand and follow the spiritual path which is attuned to your feminine nature.
❁ Learn how to have fun with and appreciate women of various backgrounds and cultures.
Your Desire?
What is your innermost, secret desire?
❁ Perhaps you have not even dared to whisper it to yourself. Is it to come to know the fullness of orgasm, the depths of intimacy and love, the joys of bringing life into the world?
❁ Perhaps it is to be recognised as a divine being of exceptional beauty and talent?
❁ Or maybe it is to be of service for a better world? Whatever your secret desire is, know well that all women are connected and your desire is our desire.
My Promise To You / Guarantee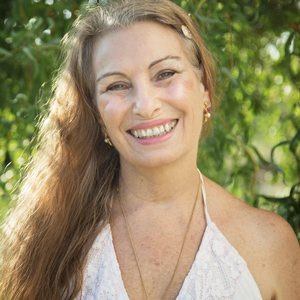 My promise to you is, if you participate in this course wholeheartedly, you will experience a quantum leap into becoming the empowered woman you are meant to be.
This is bound to have a knock-on effect in your life as a whole.
When I am teaching, I am involved 100% in the process of teaching and offer the very best I can each and every moment.
It is my guarantee that by participating in this course you will be inspired to open up more of your potential than you may have ever dreamed was possible.
And if you are really courageous and bring your own 100% to the process, then together we can make magic happen in your life.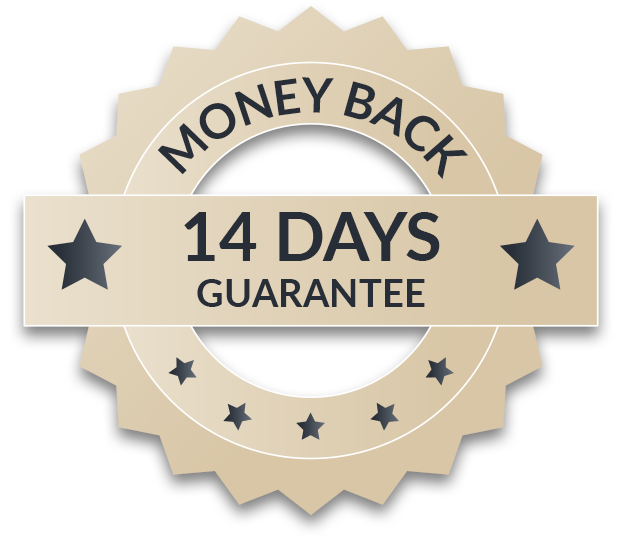 If you are not happy with content of the Goddess Unveiled course or this course will not meet your expectation, please let us know, we will send you your money back. Refund is only available within 14 days of actual purchase.